2-in-1 Learning Tower + Toddler Table
Regular price
$299.00 USD
Regular price
$259.00 USD
Sale price
$299.00 USD
Unit price
per
Sale
Sold out
Our transformable learning tower is a versatile product that helps raise your little one to counter height, giving them the chance to safely participate in activities. It's also great for exploring food or toys independently, building their self-esteem and confidence. It is designed for little ones to climb up on their own, and has multiple safety bars for added peace of mind.
It folds down into an activity station comprised of a table and bench, where your child can play or have a snack.
Comes in 3 elegant colours:
1. Natural wood (middle) and light grey (sides)
2. Natural wood (middle) and sage (sides)
3. Natural wood (middle) and black (sides)
For added safety, all of our learning towers come with anti-tipping foot stabilizers.
Recommended for ages 12 months and up. Children should always be supervised during playtime and other activities.
Materials

Made of solid Birch and plywood.
Shipping

FREE Canada and contiguous US shipping (most provinces and states) on orders over $200. For shipping to APO or other areas, contact us and we will do our best to find a way to get our products to you!
Dimensions

Height: 88cm

Width: 41cm

Length: 44cm

Box: 52cm * 47cm * 17cm

Weight: 9Kg
Assembly & Care

This product requires assembly.

Easily cleans using a damp cloth and mild soap.

Children should always be supervised during playtime and other activities.
Share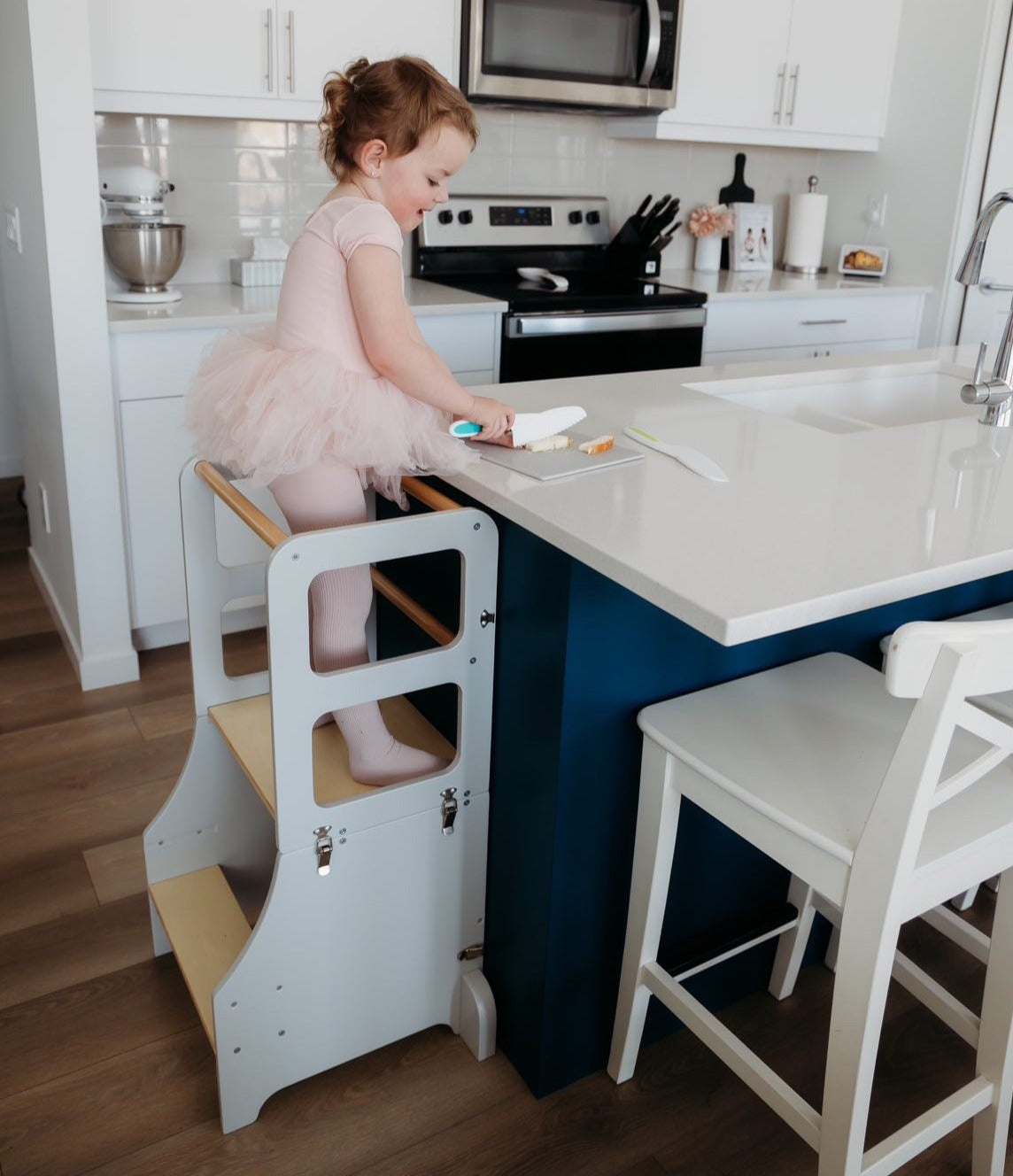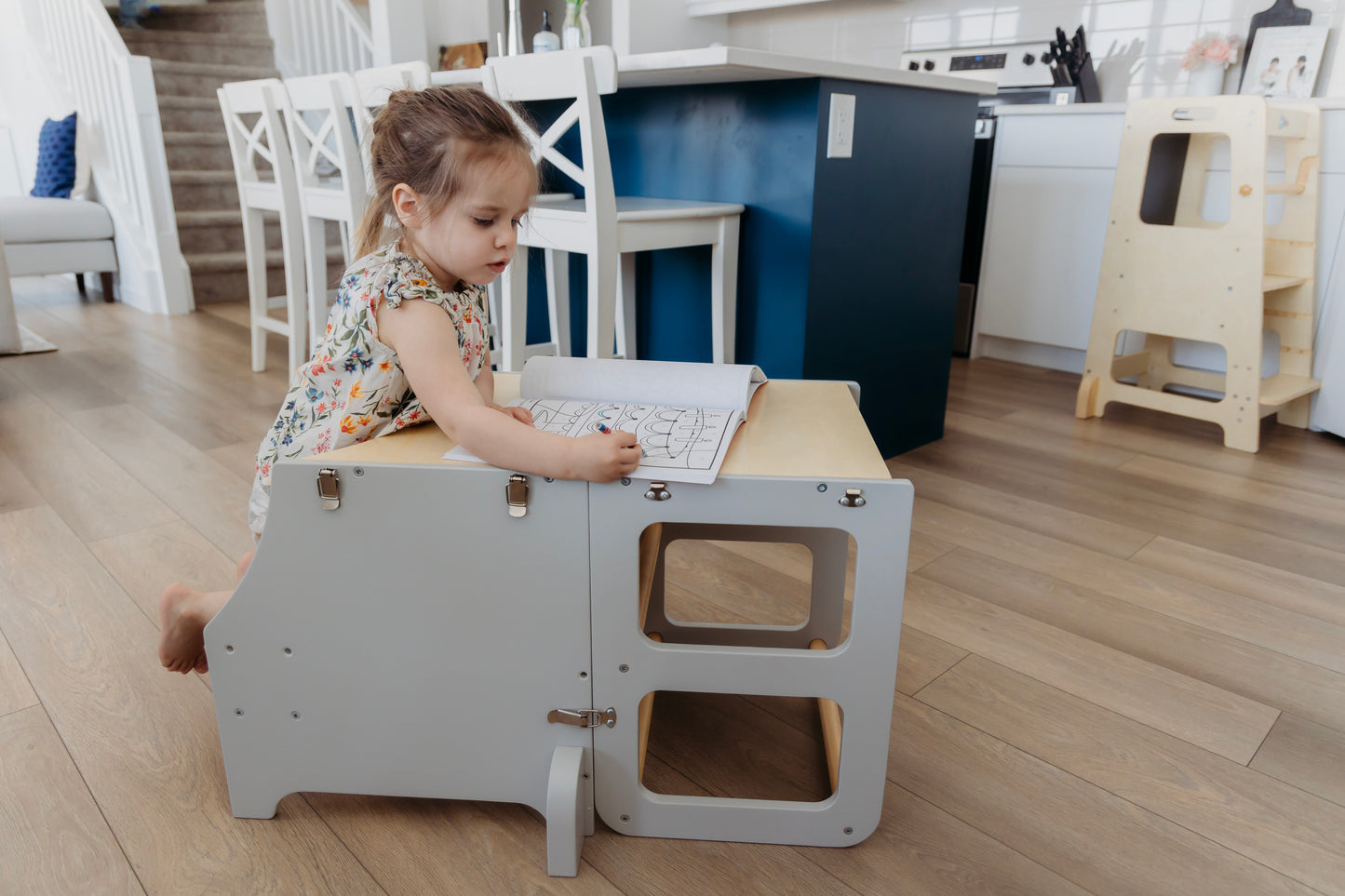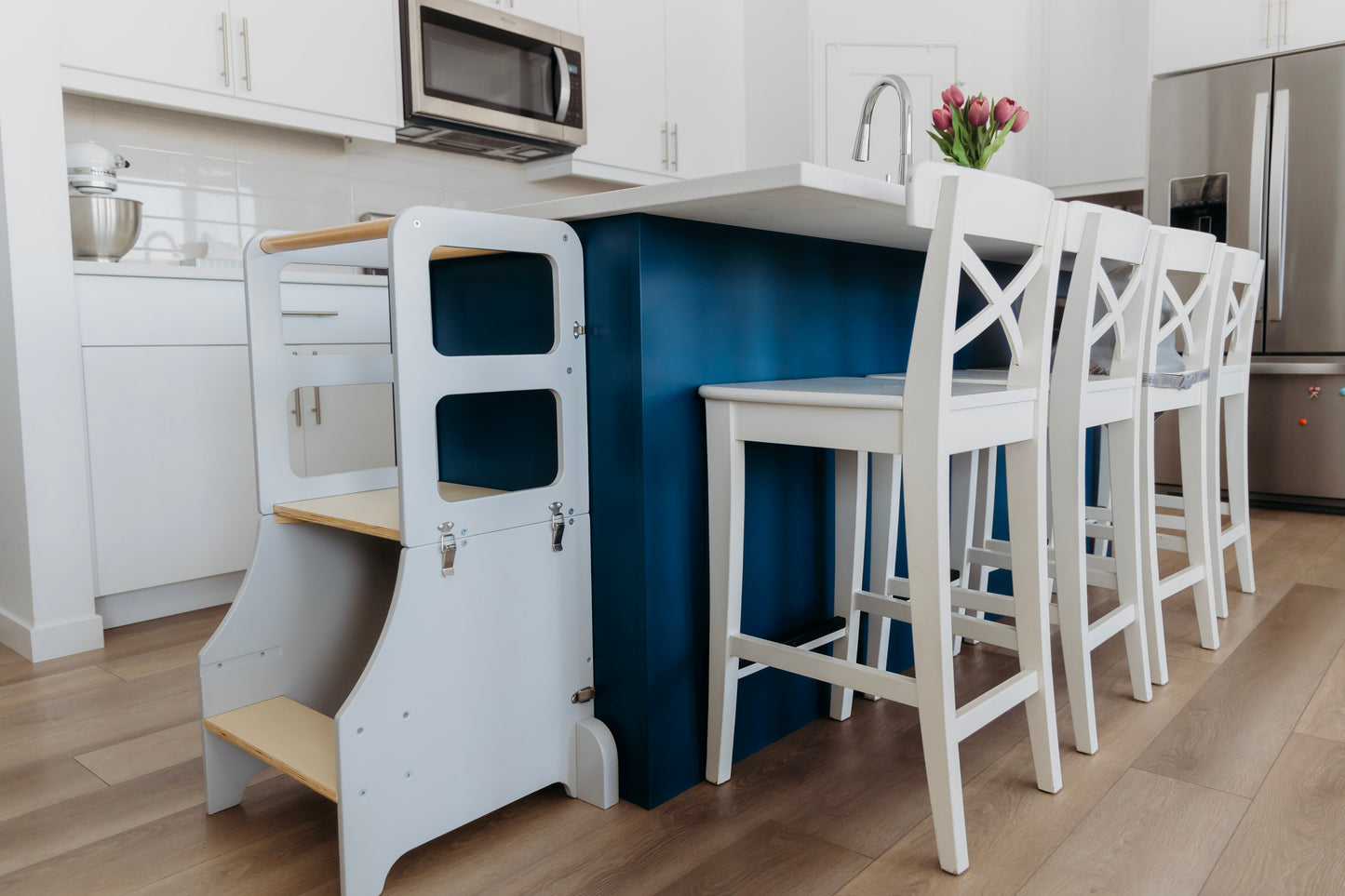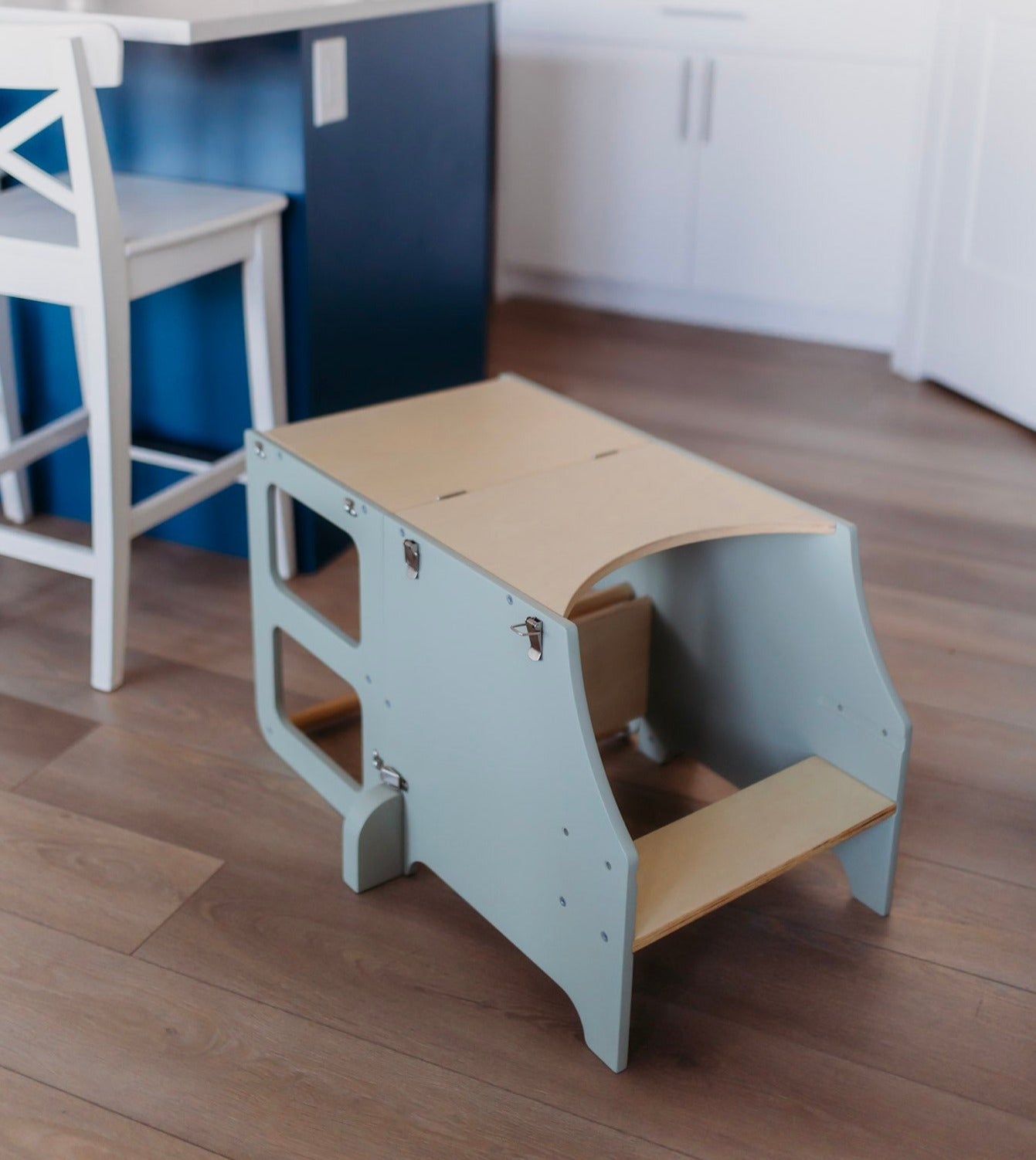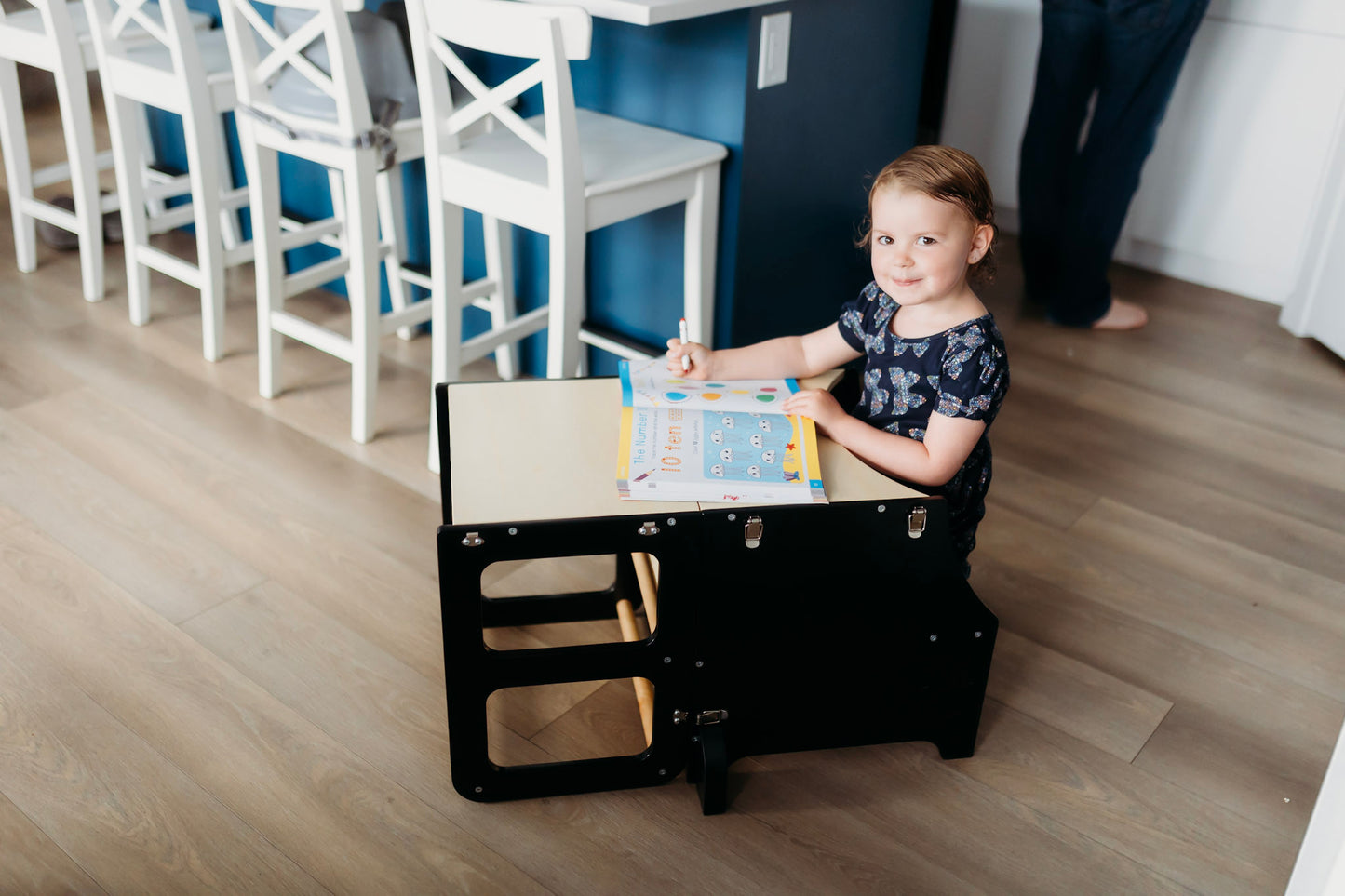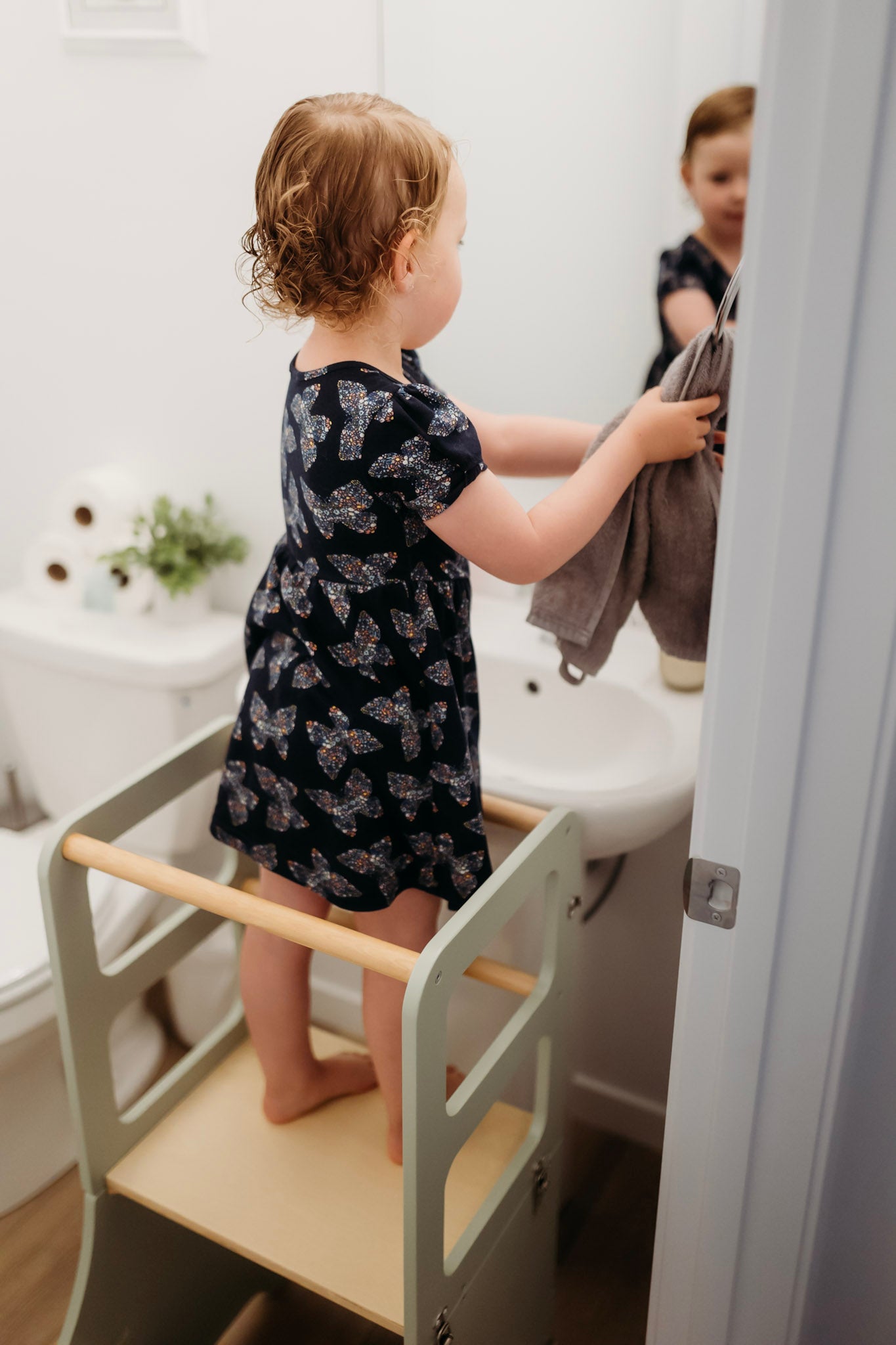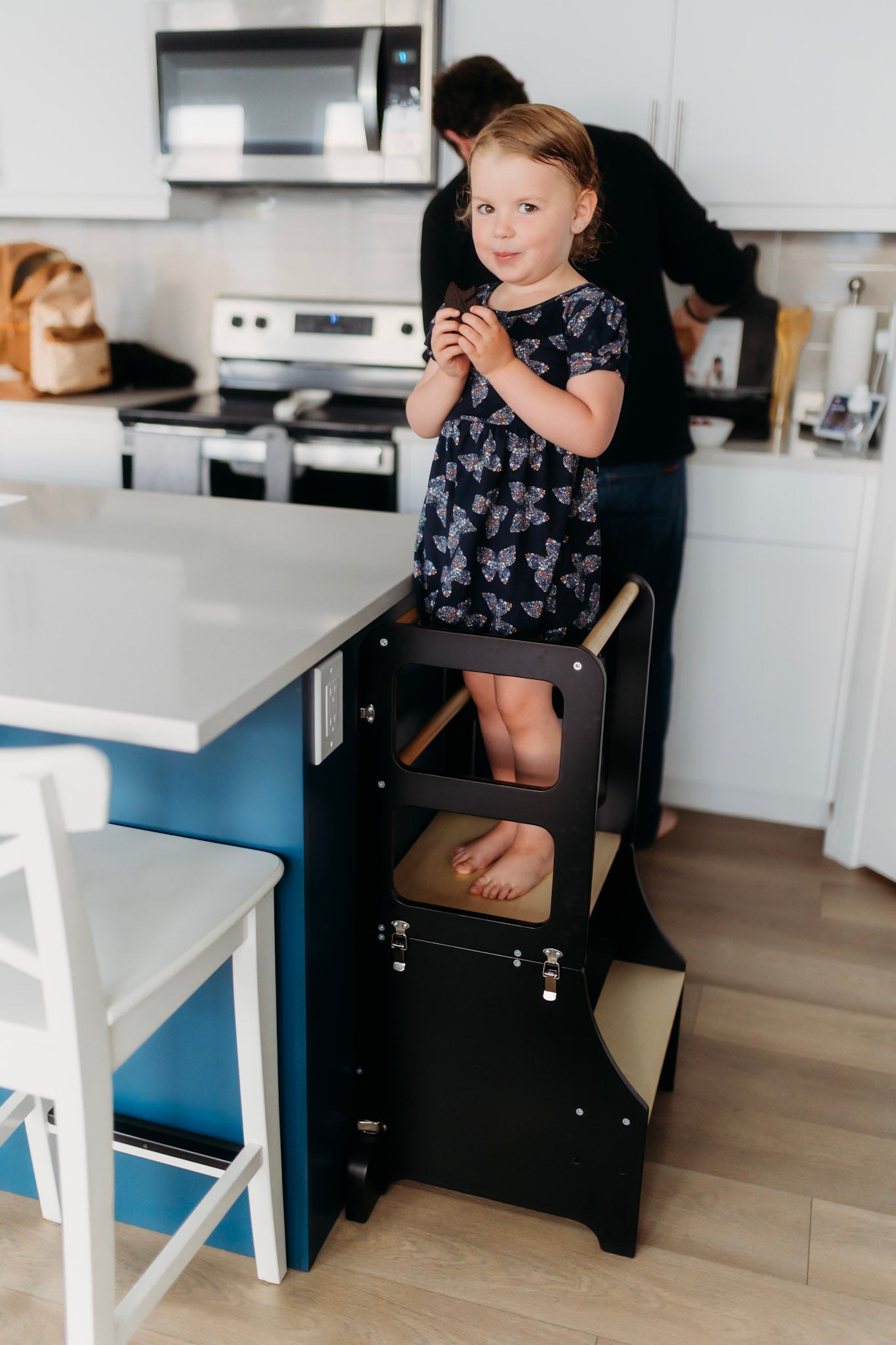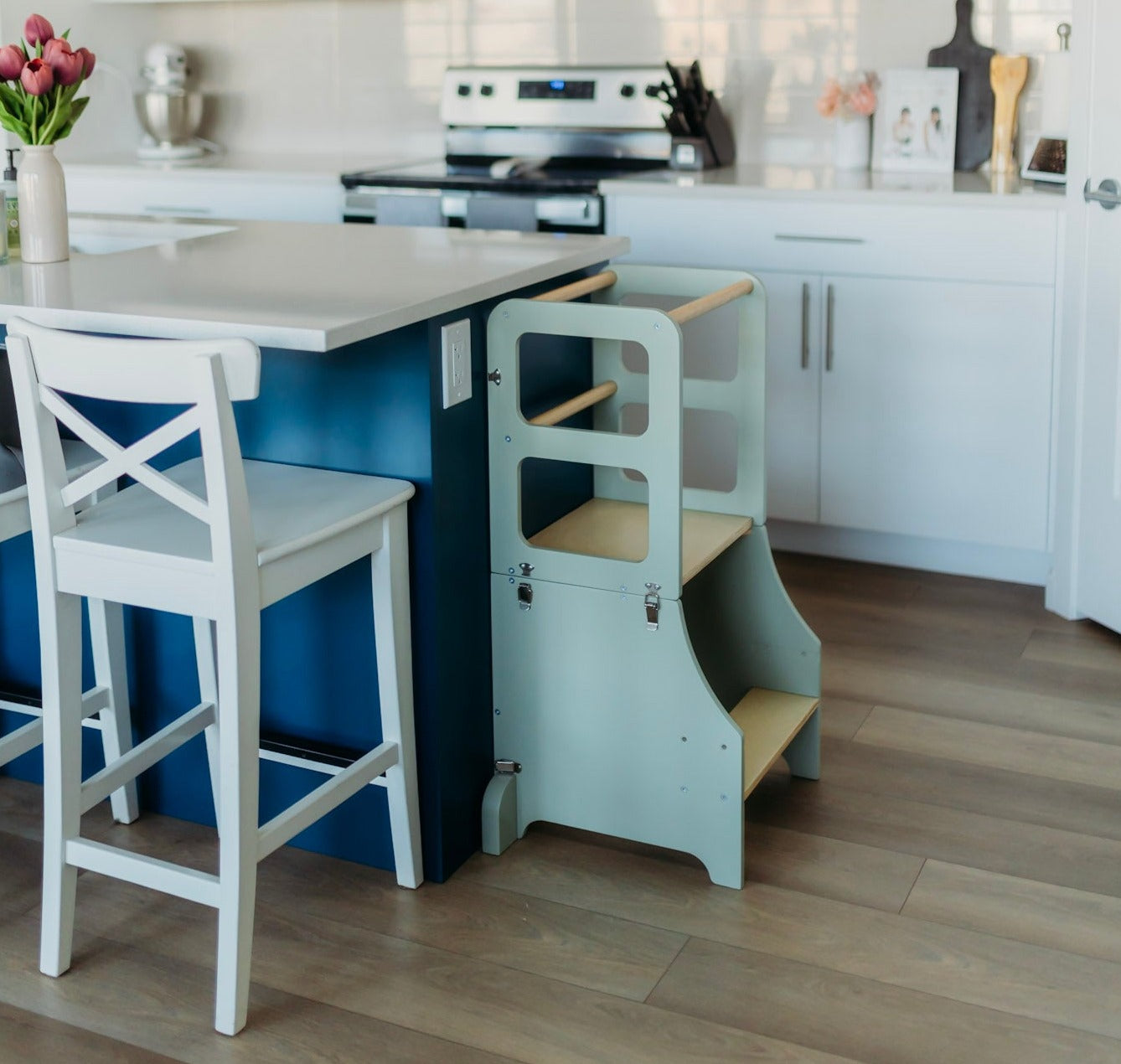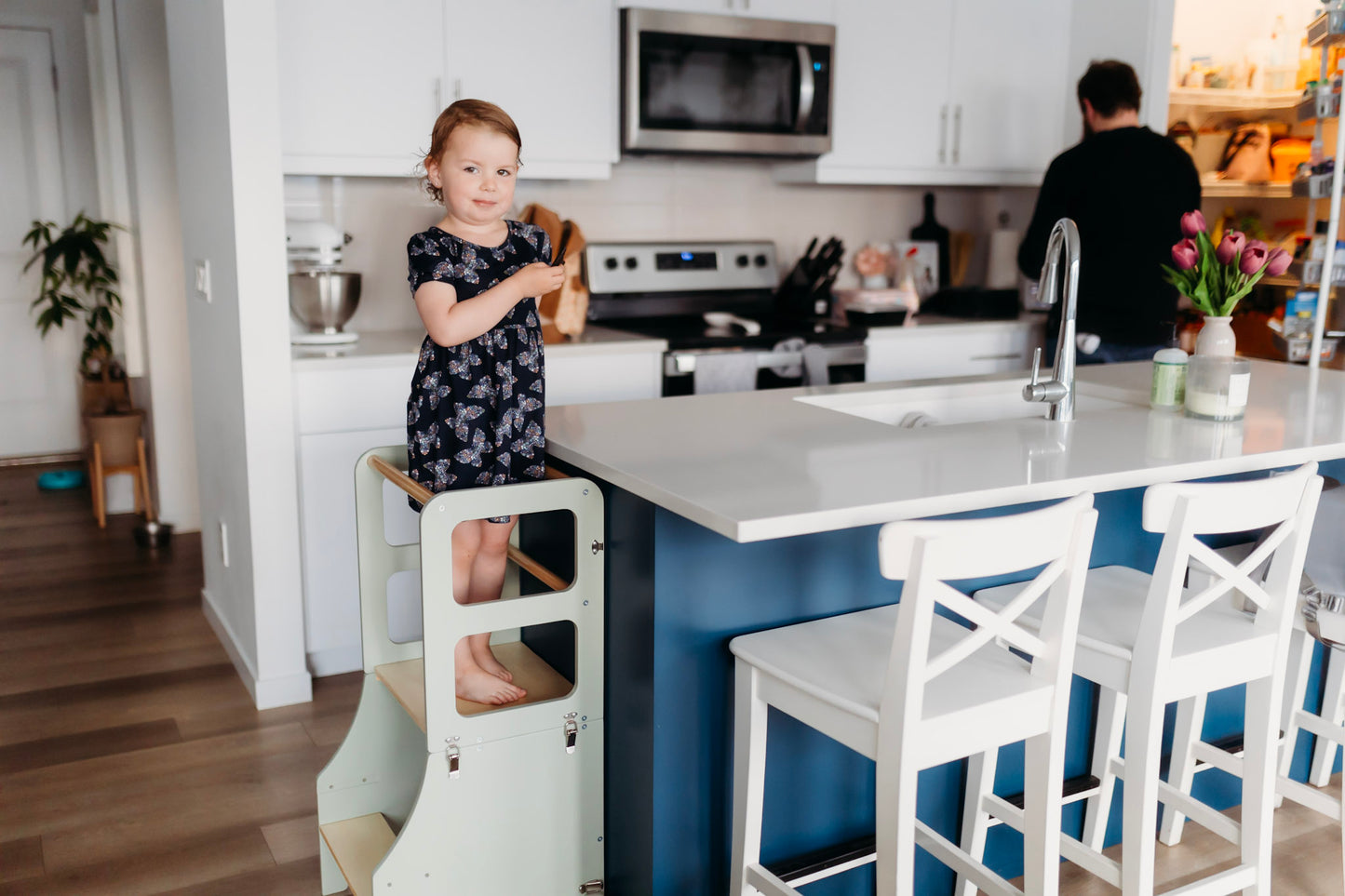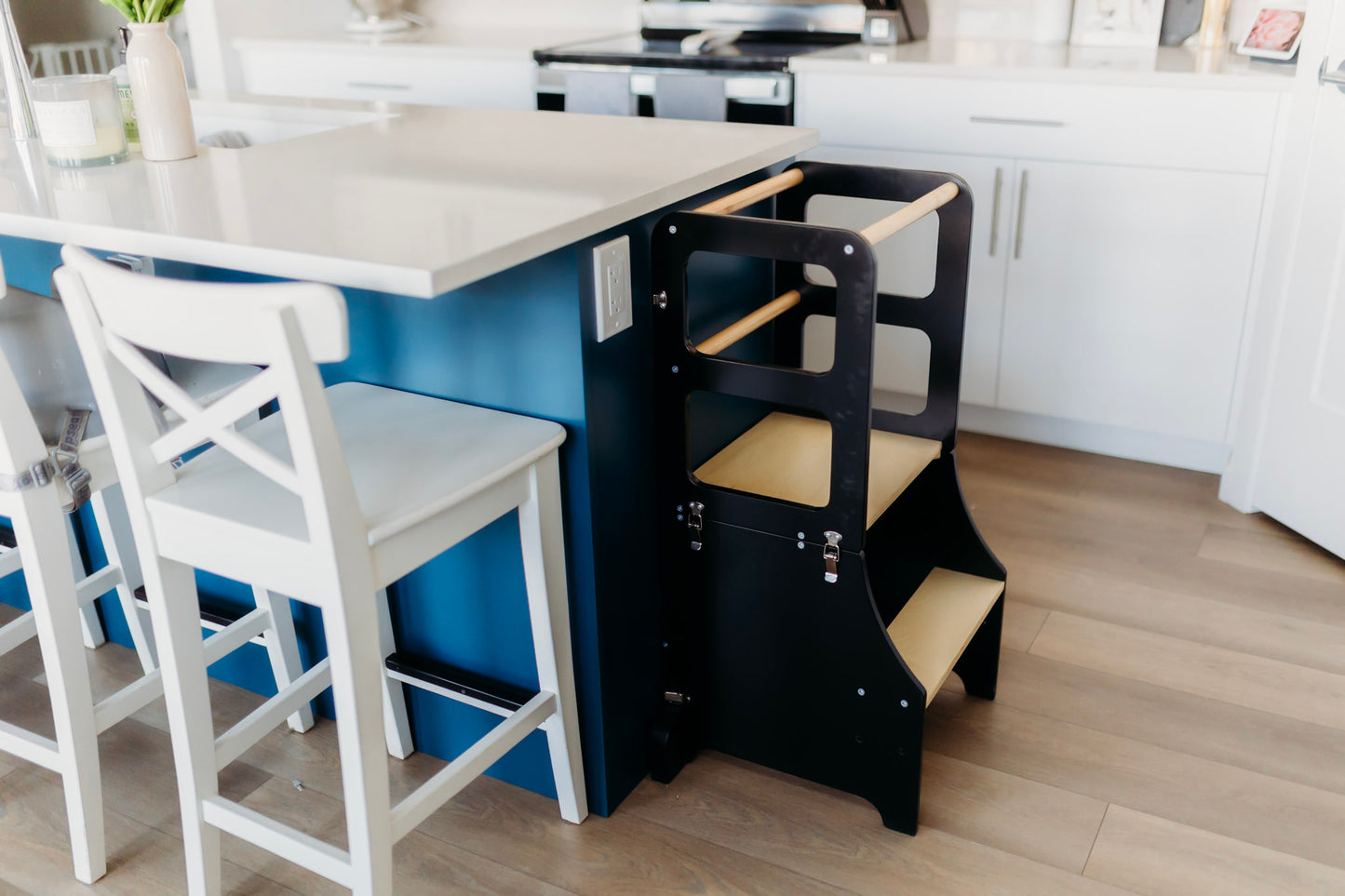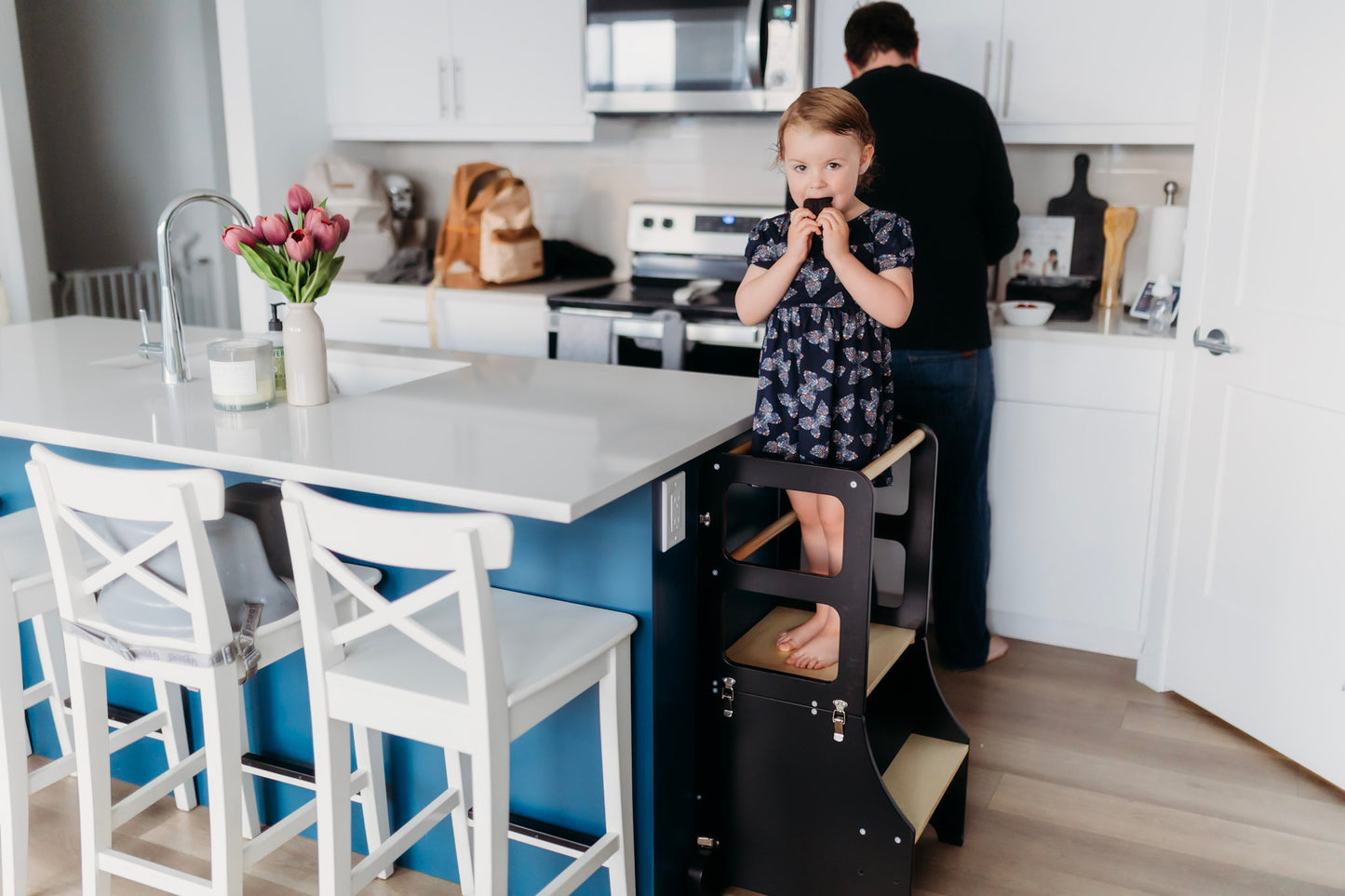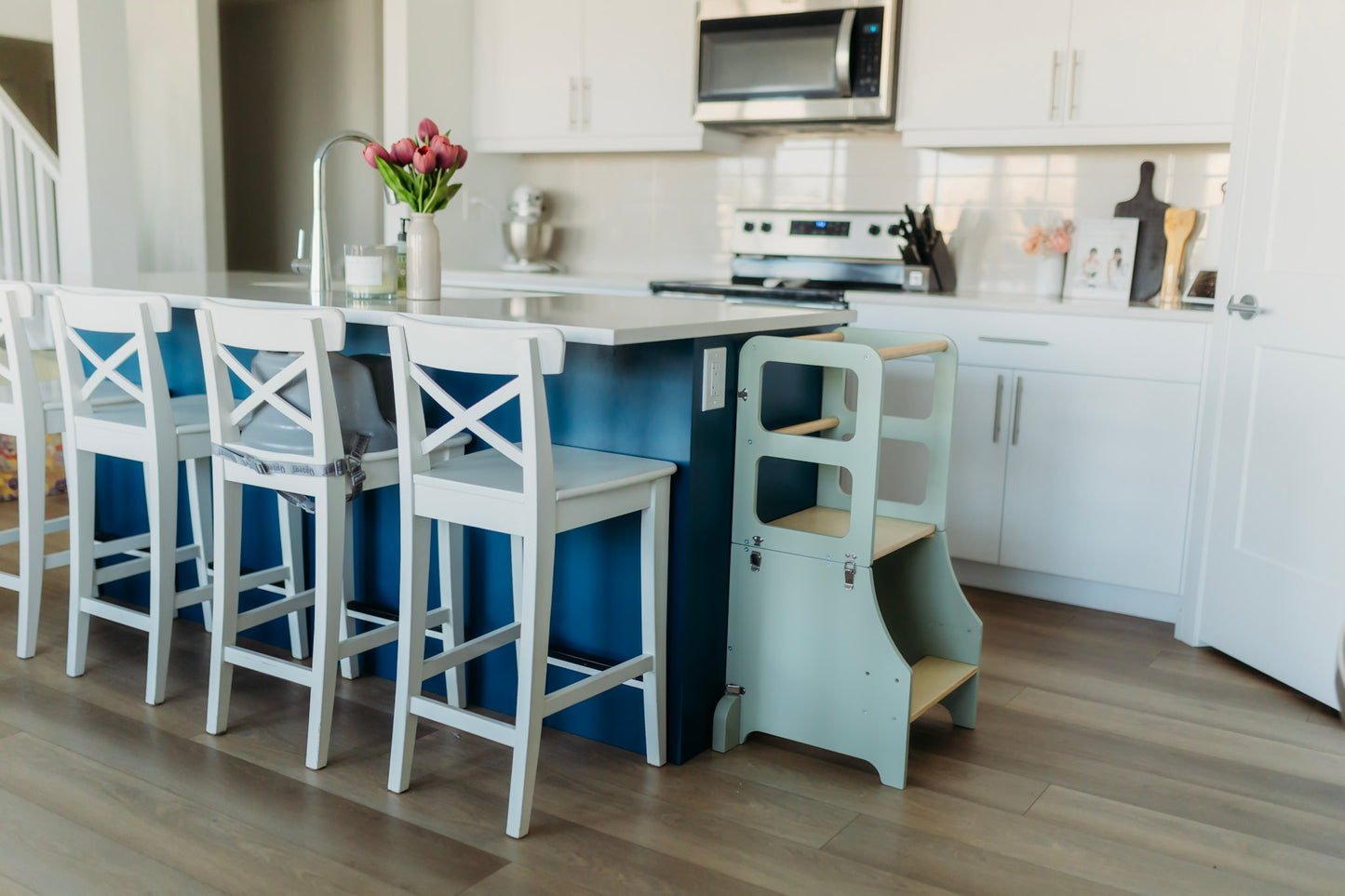 Great tower and amazing business
I had originally purchased this tower about 6 months ago and while I was happy with the design, I didn't feel that it was sturdy enough to support my toddler. Christina and Cory reached out to me and offered to send me the new sturdier design once finished. I have to say that this version is very sturdy and strong and the design is even nicer as it blends the wood tones with the sage. Both my toddler and I love this tower.
I highly recommend this product and this company. It is clear that the owners care about their customers and always improving quality of their products, ensuring that they are safe and well made for our children.
Sooo great!
My son absolutely loves this 2 in 1 learning tower and toddler table. We r using the toddler table so much right now! Love how light weight and easy it is to move around and how simple it is to convert to the table or tower.
So great! We love it!
Our boy, 15 months can get up and down himself! He is much happier to take part in making food. The table and chair fonction works great as well!
2 in 1 learning tower is fabulous
We love our sage green learning towers! We have twins, so got two. They go together very easily, with very clear instructions. The towers fold down into cute little tables - very versatile. Highly recommend. The chalk-board backed tower would also have been a great option as it would prevent our little climber's from stepping on the wooden dowel to climb even higher :P Really great product, highly recommend :-)
Pretty good
The tower is good but I wish it could be adjustable. The issue I had was with the shipping. The carrier didn't try to deliver it but said they did even though there was no delivery slip. then I got the run around for a week. When I finally realized they only have one delivery attempt and I had to figure out where to pick it up. Then I waited 25min outside the facility to pick it up. Can park is the worst delivery service